It might seem counterintuitive, but sometimes tooth extractions are your best bet for maintaining the health of your smile. Don't worry, if you are ever in such a situation, we'll make the tooth removal process easy. At Excel Dental in Ozark, MO, we have a modern approach for tooth extractions combined with many years of experience. We strive to put our patients at ease and make extractions as pleasant as possible. You can expect several other benefits from your procedure here:
Your extraction will boost your oral health
The surgical procedure is easy and effective
We'll answer all of your questions along the way
No matter how many teeth are removed, our compassionate team will monitor you closely and help keep you calm throughout your procedure.
For more information on your tooth removal and sedation options that will keep you pain-free, call our dentist's office at (417) 581-3600!
Understanding the Reasons Why You May Need Tooth Removal
Our goal is to preserve your natural smile whenever possible. However, there are some common reasons why getting a tooth removed may be necessary:
When there is severe damage or decay present
If neighboring teeth may be endangered by an infected tooth
As prep work for orthodontics, cosmetic dentistry and restorative dentistry
For patients experiencing eruption of wisdom teeth
Whatever the reason for your tooth extraction in Ozark, you can trust that your mouth will be in good hands with our caring, gentle staff. We'll take time to listen to your questions and concerns and make sure you have all the information you need to feel confident about the procedure.
With Dental Sedation, There's No Need to Feel Anxious
At Excel Dental in Ozark, MO, you'll stay comfortable and relaxed the entire time you are here for your modern tooth extraction. Our comfort amenities include dental massage chairs, blankets, satellite radio, and TV's in every room. Plus we feature two great dental sedation options:
Inhaled sedation (aka laughing gas), which provides a euphoric distraction
Oral conscious sedation, which offers a deeper state of relaxation
If you're in pain or think you might need tooth extractions in Ozark, call our dentist's office today at 417-581-3600.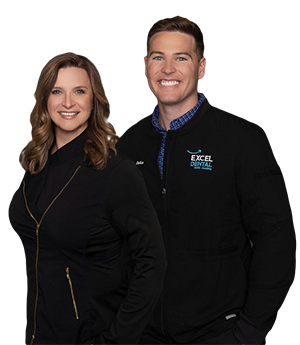 Excel Dental
Dr. Tracy Davis and Dr. Jim Oslica
The careers of Dr. Jim Oslica and Dr. Tracy Davis have followed similar paths, and they are excited to offer exceptional smile care to residents of southwest Missouri! Dr. Oslica originally hails from St. Louis but moved to Ozark at a young age and graduated from Ozark High School. Dr. Davis' hometown is Conway, though she moved to the Springfield area in 2004 to be closer to family. Graduates of the University of Missouri-Kansas City School of Dentistry, they both have earned many accolades and memberships in prestigious medical associations. For example, Dr. Davis has received national recognition as a dental researcher while Dr. Oslica is an active member of the American Dental Association. Drs. Davis and Oslica love to help our patients smile with more confidence and providing you top-notch, comprehensive dental care in a warm environment.