Like many of our patients who now smile confidently, you may be wondering about cosmetic dental services to improve the look of your smile. At Excel Dental, we offer you cosmetic dentistry in Ozark, MO that will help you:
See a bright, healthy smile in the mirror
Earn more respect and work and in your professional circles
Look younger, more attractive, and more successful
Exude confidence wherever you go
Make dating and romantic moments more relaxed
Feel better about yourself overall
Maintain good oral hygiene easier
We're open for early morning and late afternoon appointments! Call us today to schedule your cosmetic dentistry consultation: (417) 581-3600. We're located at 1701 W James River Road in Ozark, MO.
Unlock Your Best Smile With Our Skilled Team
No one wants to continue living with a smile that they're not happy with. Hiding your smile behind your hand and practicing a "closed-lip" smile are no fun. Dr. Davis is an accomplished cosmetic dentist in Ozark MO. She has helped many Springfield, MO area residents achieve more attractive smiles. Below are a few of our treatments that they might use to help you as well:
Teeth Whitening – For fast and dramatic results, our in-office laser whitening treatment can whiten your teeth up to 12 shades in only one visit. Or, we can supply you with custom trays and a concentrated whitening agent to use conveniently at home.
Dental Veneers – These thin, tooth-colored shells are custom-crafted from beautiful porcelain and will transform your smile into a masterpiece. We offer several lines of veneers depending on your situation – e.max, DURAthin, and Lumineers.
Orthodontics – You can have a straight and beautiful smile in months, not years. Invisalign uses comfortable clear teeth aligners that offer discreet straightening power, while Six Month Smiles uses clear braces and gently moves your most visible teeth into proper alignment.
Dental Bonding – Our cosmetic dentists in Ozark MO will use their skills to sculpt composite resin and cover up your teeth flaws. Bonding will instantly repair chips, cracks, deep stains, gaps, worn teeth, and misshapen teeth.
Gum Reshaping – Using a gentle laser, we will remove excess gum tissue and eliminate your "gummy smile." Afterward, your smile will have the proper teeth-to-gum ratio.
Teeth Contouring – We can smooth rough tooth edges, giving your smile a more aesthetic, uniform look.
Crown Lengthening – If your teeth appear too short, we can sculpt your gumline to reveal more of their natural beauty. Depending on your needs and circumstances, this procedure can be performed surgically or using a laser.
Gum Recession Treatment – If you have lost gum tissue from either gum disease or injury, we partner with a local periodontist who can perform a tissue graft.
Smile Makeover – We can work with you to design a custom treatment plan combining several of our cosmetic services.
Don't live with a smile you're not proud of! Our Ozark cosmetic dentistry will let your smile shine. Call us today to schedule your consultation: (417) 581-3600. You can also request an appointment online.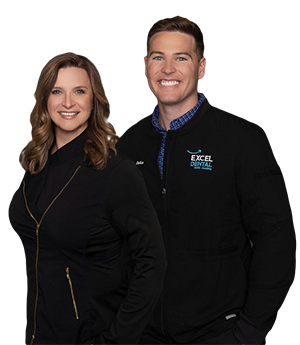 Excel Dental
Dr. Tracy Davis and Dr. Jim Oslica
The careers of Dr. Jim Oslica and Dr. Tracy Davis have followed similar paths, and they are excited to offer exceptional smile care to residents of southwest Missouri! Dr. Oslica originally hails from St. Louis but moved to Ozark at a young age and graduated from Ozark High School. Dr. Davis' hometown is Conway, though she moved to the Springfield area in 2004 to be closer to family. Graduates of the University of Missouri-Kansas City School of Dentistry, they both have earned many accolades and memberships in prestigious medical associations. For example, Dr. Davis has received national recognition as a dental researcher while Dr. Oslica is an active member of the American Dental Association. Drs. Davis and Oslica love to help our patients smile with more confidence and providing you top-notch, comprehensive dental care in a warm environment.