Missing teeth can take a toll on you – both physically and emotionally. Not only are your menu options limited, but gaps in your smile can cause embarrassment and shyness. Fortunately, you have teeth replacement solutions using dental implants from Excel Dental in Ozark, MO. Our implant therapy will allow you to:
Smile more confidently wherever you go
Eat a wider variety of delicious and nutritious foods again
Feel more relaxed in social and romantic settings
Earn more respect at work
Improve your oral health and overall health
Enjoy a better self-image
We offer two sedation options if you're nervous about getting teeth implants. Call Excel Dental today at 417-581-3600 to schedule your consultation. We're ready to help you enjoy a full mouth of teeth again!
Implants Replace Your Missing Teeth
Dental Implant Procedure
Although dental implants have been around for hundreds of years, in recent decades their popularity has soared as replacements for missing teeth. Today, implants are usually made from titanium, as this metal bonds well with your natural bone.
Our team will place a tooth implant in your jawbone using 3-D imaging and a computer-guided procedure. Both Dr. Davis and Dr. Oslica are experienced in dental implants. You can rest assured that your treatment will be in good hands!
After your procedure, the implant will begin to chemically fuse with the bone in a process called osseointegration. Your jawbone will actually begin to grow around the implant, holding it securely in place and creating a sturdy base for new replacement teeth.
Dental Implant Options
At Excel Dental in Ozark, we offer you a variety of ways to use dental implants to replace missing teeth, including:
Single Implant Crown – We'll attach a beautiful crown to an implant, giving you back a strong and healthy smile. Your new tooth will look so natural, nobody will guess it hasn't always been there.
Implant-Supported Bridge – This type of bridge anchors to two or more implants to fill in the gaps in your smile. Your bridge will make biting and chewing much easier again.
Implant-Supported Dentures – Your new dentures will anchor to a sturdy bar that transfers the forces of biting and chewing to your implants rather than your gums. This makes them our most comfortable denture.
Full-Arch Implants – We'll use a minimal number of implants (either four or six) to anchor an entire arch of new replacement teeth. You'll leave our office with new teeth and ready to face the world.
Mini Dental Implants – We can sometimes use mini dental implants if you're not a good candidate for standard dental implants. If you already have mini implants and need to repair or replace one, we can do that as well.
Full-Mouth Reconstruction – Using advanced tools and our dentists' skills, we can place an entire mouth full of beautiful and functional new teeth. It will be like you never lost your teeth in the first place!
Dental implants in Ozark, MO from Excel Dental can drastically improve your quality of life, so don't delay in getting started on your treatment! Call us today at 417-581-3600 to schedule your consultation.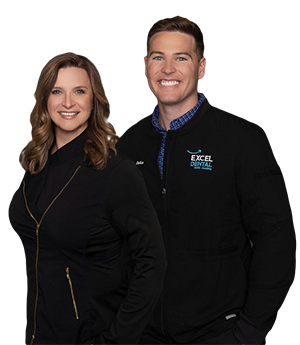 Excel Dental
Dr. Tracy Davis and Dr. Jim Oslica
The careers of Dr. Jim Oslica and Dr. Tracy Davis have followed similar paths, and they are excited to offer exceptional smile care to residents of southwest Missouri! Dr. Oslica originally hails from St. Louis but moved to Ozark at a young age and graduated from Ozark High School. Dr. Davis' hometown is Conway, though she moved to the Springfield area in 2004 to be closer to family. Graduates of the University of Missouri-Kansas City School of Dentistry, they both have earned many accolades and memberships in prestigious medical associations. For example, Dr. Davis has received national recognition as a dental researcher while Dr. Oslica is an active member of the American Dental Association. Drs. Davis and Oslica love to help our patients smile with more confidence and providing you top-notch, comprehensive dental care in a warm environment.