Our teeth whitening in Ozark, MO can liven up your smile in no time! If dull teeth have you down, then Excel Dental offers whitening treatment that can:
Give you a new smile you'll be proud to show off
Improve your confidence in social and professional situations
Help you look younger and more attractive
Make romantic situations more relaxed and enjoyable
Call us today to schedule your appointment for teeth whitening treatment: (417) 581-3600. We're located at 1701 James River Road, just south of James River Church.
Take Your Choice of Whitening Options
At Excel Dental, we believe in giving our cosmetic dentistry patients options whenever possible – and that includes whitening your teeth. Just as there is more than one kind of patient, there should be more than one teeth whitening solution. We'll help you determine the best type of whitening for your needs.
For patients who want the most dramatic smile change in the shortest amount of time, we recommend in-office treatment. We combine a concentrated whitening agent with the power of our dental laser to create a treatment that is second to none!
The laser accelerates the effects of the concentrate, making great treatment even faster. Many patients can achieve teeth that are 12 shades whiter in just one appointment! Plus, in the hands of our skilled team, treatment is completely safe.
If time is not a factor, or if you just want more convenience, we offer at-home teeth whitening using the Opalescence system. We'll fit you with custom whitening trays and provide you with a concentrated solution that you can use whenever and wherever you want. Our take-home teeth bleaching will work quicker and safer than store-bought kits, plus you'll always have our team of experts just a phone call away if you have any questions. What could be better?
When you need a brilliant new smile, rely on our Ozark MO teeth whitening! Call us today at 417-581-3600 to get started on your treatment. Schedule online!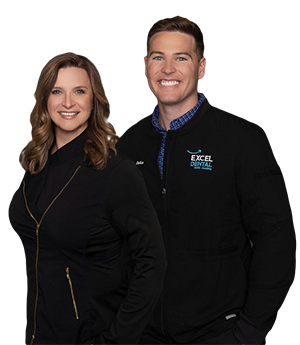 Excel Dental
Dr. Tracy Davis and Dr. Jim Oslica
The careers of Dr. Jim Oslica and Dr. Tracy Davis have followed similar paths, and they are excited to offer exceptional smile care to residents of southwest Missouri! Dr. Oslica originally hails from St. Louis but moved to Ozark at a young age and graduated from Ozark High School. Dr. Davis' hometown is Conway, though she moved to the Springfield area in 2004 to be closer to family. Graduates of the University of Missouri-Kansas City School of Dentistry, they both have earned many accolades and memberships in prestigious medical associations. For example, Dr. Davis has received national recognition as a dental researcher while Dr. Oslica is an active member of the American Dental Association. Drs. Davis and Oslica love to help our patients smile with more confidence and providing you top-notch, comprehensive dental care in a warm environment.