When you need surgery on your mouth, you've come to the right place! Dr. Tracy Davis has the training and experience you want when you need oral surgery in Ozark, MO. At Excel Dental, you can expect:
Gentle treatment to get your smile back into shape
Your choice of soothing dental sedation to help you relax
A compassionate staff that's dedicated to making your visit pleasant and enjoyable
Leading-edge tools like 3-D imaging, computer-guided procedures, and dental lasers
Comforting touches such as dental massage chairs, pillows, blankets, headphones, and satellite radio
Your oral surgery procedure will go smoothly at Excel Dental. Call us today at 418-581-3600 to schedule your initial consultation. We're located at 1701 West James River Road in Ozark MO. Indeed, we are especially convenient for residents in the 65714, 65721, 65804, and 65810 ZIP codes.
Improve Your Mouth With Our Oral Surgical Procedures
Dr. Davis has helped many Ozark MO area residents achieve and maintain good oral health through oral surgery. If you're usually nervous at the dentist office, don't worry. We offer your choice of inhaled sedation or oral conscious sedation to help you relax. Additionally, we also offer warm blankets, headphones and televisions in every room to put you more at ease.
Below are a few types of oral surgery that we routinely perform at Excel Dental:
Standard Tooth Extractions – We'll remove a damaged or diseased tooth to protect the health of your other teeth and gums.
Wisdom Teeth Removal – If these "third molars" become impacted, we can remove them to relieve your pain and prevent further problems.
Dental Implant Surgery – Implants serve as replacement tooth roots, supporting new teeth to improve your smile and your bite.
Frenectomies (Tongue-Tie Procedures) – We can gently alter the skin between the tongue and floor of the mouth to free up your tongue movement.
Bone Grafts – Our dentist will add bone material to your jawbone to strengthen the bone and prepare it for dental implants.
Sinus Lifts – This type of bone graft adds bone tissue to the upper jaw to make room for implants.
Ridge Augmentations – We'll improve the tissue and bone of your jaw ridge, either to prepare the area for implants or for aesthetic purposes.
If you need a gum graft to repair your lost gum tissue, we can refer you to a trusted local specialist for treatment.
Ozark oral surgery can improve your oral health. Call us today at 417-581-3600 to schedule your consultation, or use our online form to schedule an appointment.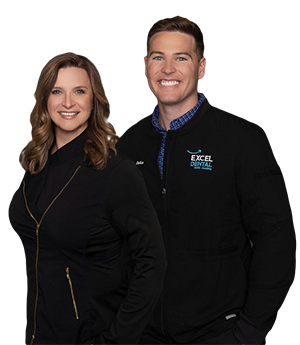 Excel Dental
Dr. Tracy Davis and Dr. Jim Oslica
The careers of Dr. Jim Oslica and Dr. Tracy Davis have followed similar paths, and they are excited to offer exceptional smile care to residents of southwest Missouri! Dr. Oslica originally hails from St. Louis but moved to Ozark at a young age and graduated from Ozark High School. Dr. Davis' hometown is Conway, though she moved to the Springfield area in 2004 to be closer to family. Graduates of the University of Missouri-Kansas City School of Dentistry, they both have earned many accolades and memberships in prestigious medical associations. For example, Dr. Davis has received national recognition as a dental researcher while Dr. Oslica is an active member of the American Dental Association. Drs. Davis and Oslica love to help our patients smile with more confidence and providing you top-notch, comprehensive dental care in a warm environment.