If you've been searching for a cosmetic dentistry solution for an imperfect smile, Excel Dental has what you need! Ozark dental veneers will cover teeth flaws and help you:
Enjoy the confidence that comes from a beautiful smile
Mingle and socialize more comfortably
Make better first impressions
Get ahead in your career and professional life
Feel better about yourself overall
If you're ready for a gorgeous new look, call the experts at Excel Dental today: (417) 581-3600. We're conveniently located just a few minutes south of Springfield, Missouri off Highway 65 in the city of Ozark.
Treat Yourself to a Brand-New Smile
Dental veneers are thin shells of porcelain that our dentist will bond to the front of your teeth. They will take the place of your natural tooth's surface, giving it a beautiful new look and strong bite. Teeth veneers are great for concealing flaws such as cracks, chips, stains, gaps, misshapen teeth, and worn teeth.
We offer several types of veneers at Excel Dental. We'll work closely with you to pick the ones that are right for your needs and situation. IPS e.max veneers are often the best choice for our patients, as they offer a variety of shades and translucencies. We also use DURAthin and Lumineers veneers for some patients.
Once we've decided on the type of veneers that are best for you, we'll do a complimentary mock-up using a physical model. You'll be able to see exactly what your new smile will look like before we do anything.
Getting Your New Veneers Is Easy
Before your veneers are placed, we may have to remove a small amount of tooth enamel to make room for them. However, you may be a candidate for prepless veneers, which means that little, if any, enamel will need to be removed.
We'll then make a digital impression of your teeth so that our lab partner can custom craft your new veneers. Once they are ready, you'll return to our office and our dentist will bond them to the front of your teeth. They will make any final adjustments needed to create your beautiful new look.
Dental veneers in Ozark will change your smile and give you a new outlook on life! Call us today at 417-581-3600 to schedule your consultation.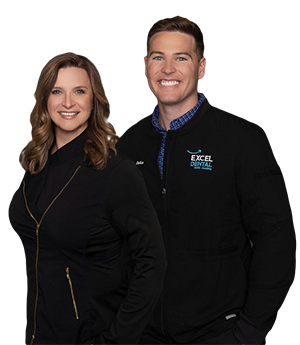 Excel Dental
Dr. Tracy Davis and Dr. Jim Oslica
The careers of Dr. Jim Oslica and Dr. Tracy Davis have followed similar paths, and they are excited to offer exceptional smile care to residents of southwest Missouri! Dr. Oslica originally hails from St. Louis but moved to Ozark at a young age and graduated from Ozark High School. Dr. Davis' hometown is Conway, though she moved to the Springfield area in 2004 to be closer to family. Graduates of the University of Missouri-Kansas City School of Dentistry, they both have earned many accolades and memberships in prestigious medical associations. For example, Dr. Davis has received national recognition as a dental researcher while Dr. Oslica is an active member of the American Dental Association. Drs. Davis and Oslica love to help our patients smile with more confidence and providing you top-notch, comprehensive dental care in a warm environment.