Our team at Excel Dental loves to provide our patients with general dentistry in Ozark, MO. These services can help you and your whole family achieve and maintain bright, happy smiles. Here's what you will enjoy when you trust your smile to us:
A pain-reducing technique to make dental cleanings more comfortable
Cozy pillows and blankets, plus headphones and satellite radio
Early detection and treatment for cavities and other oral problems
Convenient early morning and late afternoon hours
Savings on your dental care with the Excel Membership Plan
Call us today at (417) 581-3600 to schedule your next visit for general dental services at Excel Dental. We're convenient for residents in all these ZIP codes: 65630, 65631, 65669, 65714, 65721, 65742, 65753, 65754 65765, 65804, 65809, and 65810.
Enjoy Relaxing Dental Care to Keep Your Smile Bright
Our patients love our treatment because we go out of our way to ensure they're completely comfortable during their visits. Not only do we offer special touches like pillows and blankets, but if needed, we can use a mouth rinse and topical gel to numb your mouth and make your dental care more pleasant.
Below are a few of our general dental services that you and your family can take advantage of:
Dental Cleanings & Exams – Visit us every six months to keep your smile in great shape. Along with a thorough cleaning and exam, we'll screen you for oral cancer and check for cavities with our DIAGNOdent electronic cavity detector.
Preventive Treatments – We may recommend services like fluoride varnishes or dental sealants to help prevent cavities.
Gum Disease Treatment – If you're suffering from infected gums, we'll use the deep cleaning techniques of scaling and root planing to eliminate bacteria from around and below the gumline.
Halitosis (Bad Breath Treatment) – We can provide hygiene counseling and recommend specialty products like mouth rinses to help with this chronic problem. Waterpiks used at home can also help.
Dry Mouth Treatment – Our team will recommend over-the-counter products to alleviate your dry mouth and help you feel more comfortable.
Custom Mouthguards – We can make an athletic mouthguard to protect your or your child's teeth during sports, or provide you with a night guard to help stop TMJ pain and teeth grinding.
General dentistry in Ozark forms the foundation for a healthy, happy smile. Call us today at 417-581-3600 to schedule your next dental visit! You can also book your appointment online.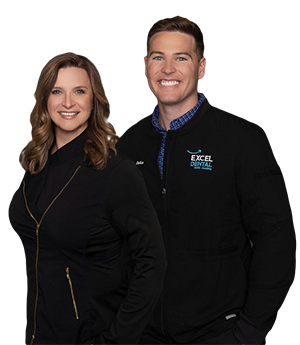 Excel Dental
Dr. Tracy Davis and Dr. Jim Oslica
The careers of Dr. Jim Oslica and Dr. Tracy Davis have followed similar paths, and they are excited to offer exceptional smile care to residents of southwest Missouri! Dr. Oslica originally hails from St. Louis but moved to Ozark at a young age and graduated from Ozark High School. Dr. Davis' hometown is Conway, though she moved to the Springfield area in 2004 to be closer to family. Graduates of the University of Missouri-Kansas City School of Dentistry, they both have earned many accolades and memberships in prestigious medical associations. For example, Dr. Davis has received national recognition as a dental researcher while Dr. Oslica is an active member of the American Dental Association. Drs. Davis and Oslica love to help our patients smile with more confidence and providing you top-notch, comprehensive dental care in a warm environment.