Gum disease is nothing to ignore. Left untreated, it has the capacity to cause tooth loss and seriously damage your smile. At Excel Dental, we offer Ozark gum disease treatment that will stop your gum problems and help you smile with more confidence again. Here are a few benefits of our treatment:
Two types of sedation to choose from so your mind is completely at ease
Mouth rinses and topical gel that will numb your mouth so you don't feel a thing
Comforting touches like pillows, blankets, headphones, and satellite radio
Soothing staff members who will answer all your dental questions and help you feel at homed
Call us today at (417) 581-3600 to schedule an exam. We're located at 1701 W James River Road. Besides Ozark, we also serve residents of Branson, Nixa, Rogersville, Republic, and Springfield.
Get Better Looking & Better Feeling Gums
Gum disease is a serious oral problem that can sneak up on you if you're not careful. Symptoms of gum disease include red, puffy gums and bleeding when you brush or floss. However, in the early stages of gum disease, there often aren't any obvious symptoms; infection can lurk silently beneath your gumline without your knowing it.
Routine dental cleanings and exams every six months will go a long way toward catching and treating a gum infection before it has the chance to cause big problems. If we do detect gum problems during your exam, we offer "deep cleaning" with scaling and root planing that will remove the infection and help your gums begin to heal.
To ensure that your treatment is comfortable, we can first apply a special gel or rinse that will numb your mouth so you don't feel anything. Then, we'll remove (scale) the built-up tartar and bacteria from around and below the gumline. Next, we'll smooth (plane) your tooth roots to make it more difficult for bacteria to recollect there.
Depending on your circumstances, this type of gum disease treatment may need to be repeated every few months. We can also give you tips on how to brush and floss most effectively at home to help prevent gum disease.
If you think your gums could be suffering, call us today at (417) 581-3600 for Ozark gum disease treatment. We'll help keep your smile intact!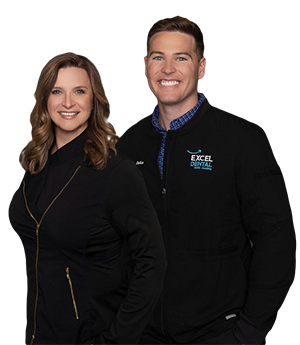 Excel Dental
Dr. Tracy Davis and Dr. Jim Oslica
The careers of Dr. Jim Oslica and Dr. Tracy Davis have followed similar paths, and they are excited to offer exceptional smile care to residents of southwest Missouri! Dr. Oslica originally hails from St. Louis but moved to Ozark at a young age and graduated from Ozark High School. Dr. Davis' hometown is Conway, though she moved to the Springfield area in 2004 to be closer to family. Graduates of the University of Missouri-Kansas City School of Dentistry, they both have earned many accolades and memberships in prestigious medical associations. For example, Dr. Davis has received national recognition as a dental researcher while Dr. Oslica is an active member of the American Dental Association. Drs. Davis and Oslica love to help our patients smile with more confidence and providing you top-notch, comprehensive dental care in a warm environment.