You don't have to continue through life with an underperforming mouth. At Excel Dental, Dr. Tracy Davis offers our patients great options when it comes to restoring their teeth. An Ozark full-mouth reconstruction will help you:
Eat and enjoy a wider variety of nutritious and delicious foods
Smile with more confidence wherever you go
Appear younger and more robust
Improve your oral health and total body health
Ready to get all your teeth back? Call the Excel Dental team today at (417) 581-3600 to schedule your consultation. You'll find our office at 1701 James River Road – just south of James River Church. Ask us about our sedation options and our cozy amenities like pillows and blankets!
Rebuild Your Mouth & Enjoy Life More
Many of our patients first come to us because they are missing most or even all of their natural teeth. If you're in the same situation, we can help. Dr. Davis will examine your mouth, and we'll take some images using a 3-D CT scanner. Then, we'll work with you to develop a game plan for your full-mouth rehabilitation.
We have many innovative dental options available for restoring your teeth. A few of these are outlined below:
Conventional Full Dentures – If necessary, we can extract any remaining teeth, then fit you with new dentures that will restore your smile. Your upper dentures will stay in place with a combination of suction and adhesive, while your lower dentures will rest on your gums.
Implant-Retained Dentures – For more stable and secure dentures, we can anchor them to dental implants. We'll place implants in your jaw using a computer-guided procedure, then after a healing period, attach dentures using a snap-and-ball system.
Implant-Supported Dentures – Our best fitting and best performing dentures attach to a metal bar that is secured to implants. You'll never have to worry about these dentures slipping out of place or moving around in your mouth.
Full-Arch Replacement – Using a precise number of implants per arch (either four or six), we can secure a full row of beautiful new teeth. They will look completely natural and be fully functional.
Enjoy a mouth that does what it's supposed to do! Call us today to get started on your Ozark full-mouth reconstruction: (417) 581-3600.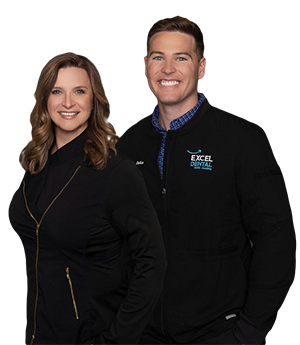 Excel Dental
Dr. Tracy Davis and Dr. Jim Oslica
The careers of Dr. Jim Oslica and Dr. Tracy Davis have followed similar paths, and they are excited to offer exceptional smile care to residents of southwest Missouri! Dr. Oslica originally hails from St. Louis but moved to Ozark at a young age and graduated from Ozark High School. Dr. Davis' hometown is Conway, though she moved to the Springfield area in 2004 to be closer to family. Graduates of the University of Missouri-Kansas City School of Dentistry, they both have earned many accolades and memberships in prestigious medical associations. For example, Dr. Davis has received national recognition as a dental researcher while Dr. Oslica is an active member of the American Dental Association. Drs. Davis and Oslica love to help our patients smile with more confidence and providing you top-notch, comprehensive dental care in a warm environment.