Dr. Tracy Davis attended Conway, MO High School. She received her Bachelor of Science in Biochemistry degree from the University of Missouri – Columbia in 1994. After graduation, she began searching for a career that would allow her to use her science background in a health environment. She loved science but wanted to be able to interact with people as well. She found her calling in family dentistry. In 2004, she received her Doctor of Dental Surgery degree from the University of Missouri – Kansas City School of Dentistry.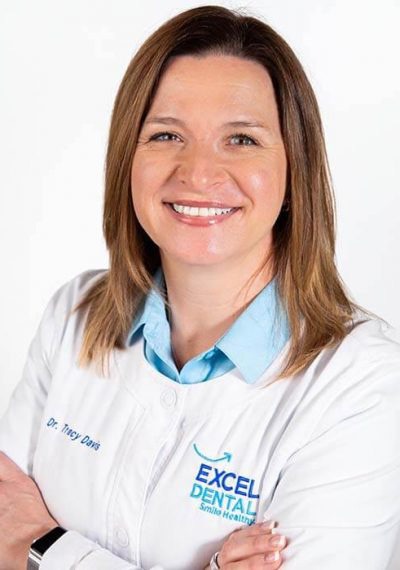 Since 2004, Dr. Tracy Davis has worked in Ozark, MO. In 2007, the name of our practice changed from Barnett Family Dental to Barnett-Davis Dental. In 2012 we became Excel Dental. We have always been privately owned.
She loves being a dentist! Dentistry is the best of many worlds in her opinion. It is a beautiful blend of patient care, science, art, and now, business ownership. One of her favorite parts about being a dentist is interacting with patients. Our office attracts many interesting patients, and Dr. Davis loves finding out more about each patient and their families. She believes that much can be learned by listening to others. Not only can she discover what they are wanting for their oral health, she can also connect with them on a personal level. This makes life fun!
Cosmetic Dentistry in Ozark, MO
Dr. Davis also loves the art of cosmetic dentistry, a fondness that has been growing over the last eight years. She has taken many continuing education courses to allow her "art" to continue growing. She feels it is the small details that truly make the difference. These days, she sees more and more patients come to our office to have their smiles transformed. Materials and techniques are constantly changing and improving. Dr. Davis loves attending courses that allow her to incorporate these new changes into our patient care.
There is something magical to her about handing a mirror to a patient after finishing their treatment. The smiles, the tears of joy, and the happiness that come with a new, updated smile are all very satisfying to her. She enjoys watching how a smile can impact the way a patient interacts with the world and gives them more confidence.
Patients love that our office has a personal relationship with them. We have many long-term patients, and Dr. Davis lovingly refers to them as her "dental family." Patients appreciate that she is sincere but likes to have some fun at the same time! It's important to her that everyone is comfortable in the dental chair.
Dr. Tracy Davis's Accomplishments & Awards
Dr. Tracy Davis' accomplishments include becoming a Kois Center Graduate in 2019. She was also recognized as Springfield Business Journal's 2017 Top Doctor.
Her significant continuing education includes Composite Artistry, Surgical 3rd Molar Removal by Dr. John Wayland, the Turbyfill denture technique, CEREC courses, iTero training, dental ceramics cosmetic courses with Dr. Rhys Spoor, Invisalign Provider, Hoya ConBio Laser Certification, CPR and Basic Life Support Certification, Six Month Smiles Certification, 3M ESPE MDI Mini Implant Certification, Dr. Arun Garg Implant Symposium Graduate, International Dental Implant Association Mastership, Schein Dr. Eggleston Implant Course, Dental Sleep Medicine with Dr. Greenman, and Dr. Christensen Yearly Report Meetings.
Doctor Tracy Davis on why she loves being a dentist and the importance of continuing education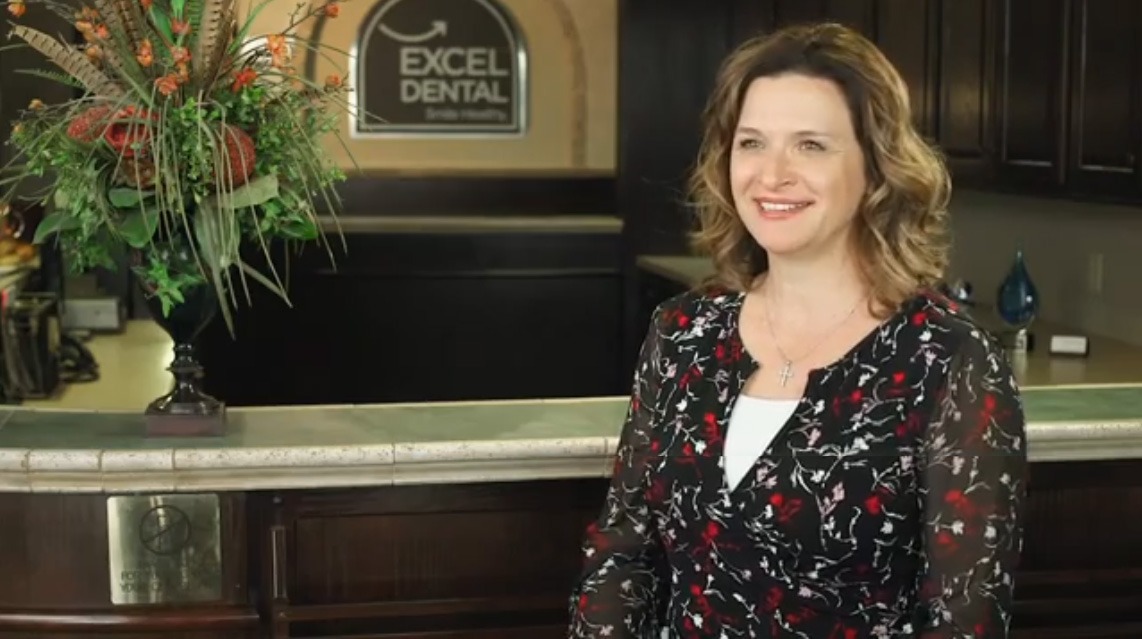 Doctor Tracy Davis on why she loves being a dentist and the importance of continuing education
Volunteer and Ozark Community Service
Dr. Davis is active in many volunteer events, including MOMOM (Missouri Mission of Mercy free dental care day), GKAS (Give Kids A Smile for local children), Special Olympics for dental screenings, Good Samaritan Care Clinic in Mountain Grove, DDS (Donated Dental Services), donating funds to the Children's Smile Center, donating funds to Ozark Care to Learn, and providing dentistry to orphans with p143.org.
Dr. Tracy Davis is a member of several professional organizations, including the American Dental Association, the Missouri Dental Association, the Greater Springfield Dental Society, the Psi Omega Dental Fraternity, the American Association of Women Dentists, the Academy of General Dentistry, the American Academy of Cosmetic Dentistry, and the American Academy of Facial Esthetics.
According to Dr. Davis, our Excel Dental team is exceptional. It's our team working together that makes the difference. Our whole staff works so well together that patients naturally feel the camaraderie whenever they step into the office.
Our team attends many continuing education classes to keep up with the latest technology and treatment trends. We meet daily to prepare for that day, always tweaking little systems to improve our patients' care and their dental experience. As a team, we read a book each month and review it at our monthly meetings. Book reviews help us to constantly grow together as a team.
As far as important dental advice, Dr. Davis believes that people with healthy lifestyles are the ones with the healthiest smiles. There is more to a healthy smile than just oral home care. In addition to brushing and flossing, drinking lots of water and eating a healthy diet are very important in keeping a healthy bio-friendly balance.
Dr. Tracy Davis's Personal Life
In Dr. Tracy Davis's spare time, being with her kids takes priority. She has a 19-year-old son, 17-year-old boy/girl twins, and a 16-year-old son. Playing the role of soccer mom and running all over the Ozarks to cheer on the tennis and golf teams, Tracy can be found at her children's athletic events many times a week. Her family is definitely a physically active one, as they also like to hike and swim. When time allows, she enjoys gardening and likes learning about flowers, plants, and shrubs.
Dr. Davis loves her little fur babies, too! Chocolate Chip "Chipper" is a little gray shih tzu that has a lot of spunk! He knows many tricks and even plays hide-and-seek with the kids! Kitty Christmas "KC" is a sweet gray cat with an alter ego when people come over – he becomes somewhat of a guard cat! Oreo is her family's latest cat – she loves to play fetch and is black with a white stripe – just like an Oreo cookie.
Success Stories
What Our Patients Are Saying