If you're looking for quality comprehensive dental care in Ozark – you just found it! Dr. Davis works hard treating the area's residents to outstanding dental care, but there's always room for another family at our friendly dentist office. Here's what you'll appreciate about our care:
We always run on schedule – we won't keep you waiting
Our team is made up of people with strong character and integrity
We offer convenient hours that fit your busy schedule, including early mornings and late afternoons
Sedation options are available to help you fully relax during your visit
Save 10 percent off your treatment when you join the Excel Membership Plan
Call Excel Dental today to schedule your next appointment for complete dental care: (417) 581-3600. We serve Ozark, plus Springfield, Nixa, Sparta, and Highlandville. Come see us soon – we're just across the road and down from Lambert's Cafe!
Relax & Trust Your Smile to Our Expert Team
Hometown dentistry is what we're all about at Excel Dental. Our team is passionate about creating a phenomenal dental experience for each patient. From cozy touches like pillows and blankets to advanced dental tools like cavity detectors and 3-D imaging, you'll immediately see that we're different from the ordinary dentist office.
We provide comprehensive dentistry with a personalized touch that your whole family can take advantage of. Here is just a sampling of the dental services we offer our patients:
Cosmetic Dentistry – Let us help you unlock a stunning new smile! Services include veneers, whitening, dental bonding, and gum reshaping.
Orthodontics – Say goodbye to a crooked, uneven smile. Choose Invisalign for straighter teeth in a few as 12 months, or find out if you're a candidate to cut your treatment time in half using Six Month Smiles.
Dentures – Enjoy life better with a full set of beautiful, durable teeth. We offer several dentures options to suit your needs and budget.
Implant Dentistry – Replace missing teeth with these artificial tooth roots. We'll place them here in our office, then they will be able to support gorgeous and functional new teeth.
General Dental Care – Your family will smile a little brighter with cleanings, exams, gum disease treatment, bad breath treatment, and dry mouth treatment.
Preventive Dental Services – Keep your smile healthy with fluoride varnish, dental sealants, custom athletic mouthguards, and night guards.
Emergency Dental Care – Call us as soon as possible to be seen the same day. We offer quick help when you're hurting and your smile is in danger.
TMJ Treatment – We offer customized treatment to help your jaw feel better, eliminate teeth grinding, and reduce headaches.
For high-quality comprehensive dental care in Ozark, call Excel Dental today at (417) 581-3600 or schedule online!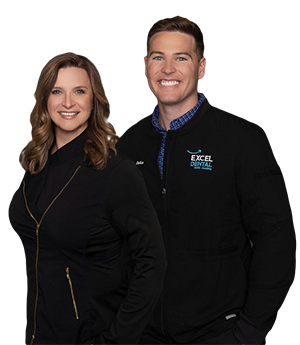 Excel Dental
Dr. Tracy Davis and Dr. Jim Oslica
The careers of Dr. Jim Oslica and Dr. Tracy Davis have followed similar paths, and they are excited to offer exceptional smile care to residents of southwest Missouri! Dr. Oslica originally hails from St. Louis but moved to Ozark at a young age and graduated from Ozark High School. Dr. Davis' hometown is Conway, though she moved to the Springfield area in 2004 to be closer to family. Graduates of the University of Missouri-Kansas City School of Dentistry, they both have earned many accolades and memberships in prestigious medical associations. For example, Dr. Davis has received national recognition as a dental researcher while Dr. Oslica is an active member of the American Dental Association. Drs. Davis and Oslica love to help our patients smile with more confidence and providing you top-notch, comprehensive dental care in a warm environment.