When you're missing your teeth, life is just simply more difficult. However, Excel Dental offers fantastic teeth replacement options using Ozark dentures. Our skilled team can give you back a beautiful smile and strong bite, enabling you to:
Enjoy more confidence when socializing and mingling
Eat more types of delicious and nutritious foods again
Look younger, healthier, and more successful
Improve your oral health and help prevent other health concerns
Talk more plainly so others can understand you the first time
Earn more respect from your peers and coworkers
Chew more thoroughly to aid in your digestion
Start on your new smile today! Call us at (417) 581-3600 to schedule your restorative dentistry consultation. We're located at 1427 W. State Hwy. J – across the road and down from Lambert's Cafe.
Revive Your Bite With Custom Dentures
With so many great kinds of dentures available today, there's no need to be without your teeth. Plus, modern dentures have come a long way in recent years – they fit more comfortably and perform better than ever! Below are some of the dentures options that may benefit you:
Conventional Full Dentures – These are the type of dentures that people are most familiar with. They will replace a full arch of teeth on either your upper arch, lower arch, or both. The uppers will remain in place using a combination of suction and adhesive, while the lowers will rest on your gums. You'll be able to remove them easily for daily cleaning.
Conventional Partial Dentures – These custom dentures function similarly to full dentures, except they are used when you still have a few healthy teeth remaining. They will attach to your other teeth using a clasp.
Implant-Retained Dentures – This type of denture takes advantage of dental implants (replacement tooth roots) to use as a sturdy base. They will attach to the implants using a snap-and-ball system. This system will keep them from slipping out of place, plus the implants will help strengthen your jawbone and prevent changes in your facial structure that can happen as a result of bone loss.
Implant-Supported Dentures – These comfortable dentures anchor to a metal bar that is secured to your implants. This setup gives them superior performance and a perfect fit. You'll never have to worry about them slipping, clicking, or popping out of your mouth and causing you embarrassment.
Hybrid Dentures – Using a minimal number of dental implants (either four or six depending on your situation), we can anchor a full arch of beautiful and functional fixed teeth. They'll stay firmly in place, plus you won't have to remove them for cleaning or keep up with any special care.
Temporary Dentures – While you're waiting for your final replacement teeth to be made, we can provide you with temporaries to use in the meantime. This way, you'll never be without your teeth!
Dentures in Ozark will give you back a beautiful smile and a strong bite. Make your appointment today by calling (417) 581-3600. A friendly team member will be glad to help you!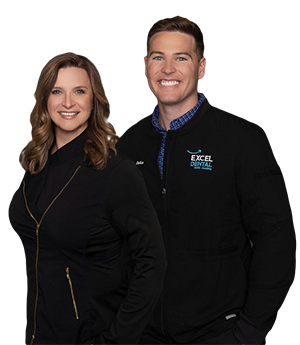 Excel Dental
Dr. Tracy Davis and Dr. Jim Oslica
The careers of Dr. Jim Oslica and Dr. Tracy Davis have followed similar paths, and they are excited to offer exceptional smile care to residents of southwest Missouri! Dr. Oslica originally hails from St. Louis but moved to Ozark at a young age and graduated from Ozark High School. Dr. Davis' hometown is Conway, though she moved to the Springfield area in 2004 to be closer to family. Graduates of the University of Missouri-Kansas City School of Dentistry, they both have earned many accolades and memberships in prestigious medical associations. For example, Dr. Davis has received national recognition as a dental researcher while Dr. Oslica is an active member of the American Dental Association. Drs. Davis and Oslica love to help our patients smile with more confidence and providing you top-notch, comprehensive dental care in a warm environment.