Many people suffer with jaw pain and tenderness that come from an irritated TMJ. If you're one of them, you don't have to put up with this discomfort any longer. Excel Dental offers you TMJ treatment in Ozark, MO using custom dental appliances that will:
Relieve tension in your jaw so it – and you – can relax
Make biting and chewing more enjoyable
Put an end to annoying jaw popping
Reduce the frequency and intensity of your headaches
Stop harmful teeth grinding and prevent dental damage
Call the team at Excel Dental today to feel better soon: (417) 581-3600. We're conveniently located at 1701 West James River Road – just off US 65 in Ozark.
Improve Your Jaw, Improve Your Life
Life can be difficult if your jaw hurts all the time. Your temporomandibular joints (TMJ) sit on either side of your head, making it possible to open and close your mouth. However, when these joints become inflamed and irritated, daily activities like talking, eating, and yawning can be quite painful.
Although researchers don't fully understand the causes of TMJ discomfort (or TMD), there are several good solutions available to help reduce your pain so you can feel better.
One effective TMJ treatment our Ozark, MO dentists use is a custom mouthguard that our dentist can make for you. It will fit comfortably in your mouth and relieve tension on your TMJ, helping your jaw feel better and giving you the relief you need.
Your mouthguard will also prevent teeth grinding (bruxism) that is both a cause and symptom of TMJ pain. As teeth grinding has been linked to headaches, less grinding may also mean fewer and less intense headaches. A mouthguard will also help avoid the need for restorative dentistry to repair your damaged teeth.
Another solution for TMD is a deprogrammer. You'll wear this custom appliance while sleeping to help keep your back teeth from clenching together. It will relieve tension on your TMJ and, over time, help align your bite into its proper position.
An NTI-tss device works in a similar way and may give you the TMJ relief you've been looking for. It fits snugly on your front teeth and prevents your back teeth from touching, helping keep your jaw muscles relaxed.
There's no need to continue suffering with jaw pain. Call Excel Dental today at 417-581-3600 to get Ozark TMJ treatment so you can relax and enjoy life better! You can also request an appointment time online.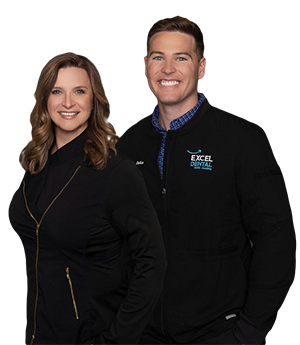 Excel Dental
Dr. Tracy Davis and Dr. Jim Oslica
The careers of Dr. Jim Oslica and Dr. Tracy Davis have followed similar paths, and they are excited to offer exceptional smile care to residents of southwest Missouri! Dr. Oslica originally hails from St. Louis but moved to Ozark at a young age and graduated from Ozark High School. Dr. Davis' hometown is Conway, though she moved to the Springfield area in 2004 to be closer to family. Graduates of the University of Missouri-Kansas City School of Dentistry, they both have earned many accolades and memberships in prestigious medical associations. For example, Dr. Davis has received national recognition as a dental researcher while Dr. Oslica is an active member of the American Dental Association. Drs. Davis and Oslica love to help our patients smile with more confidence and providing you top-notch, comprehensive dental care in a warm environment.