Everyone wants a beautiful smile; however, few people have naturally perfect teeth. That's where cosmetic dentistry comes into play. A skilled dentist, like Dr. Tracy Davis, can give you a brand-new look that will change your life. An Ozark smile makeover will help you:
Show off your smile with pride wherever you go
Look younger, healthier, and more vibrant
Improve your overall self-esteem
Gain an edge in your professional life
Plus, sedation is available if you're nervous about your treatment. Call us today at (417) 581-3600 to schedule your smile makeover consultation. Our team can create just the look you've been dreaming about!
Put Your Smile in Our Trusted Hands
No matter what kind of help your smile needs, we offer you great solutions. Your custom smile makeover could consist of any of our cosmetic dentistry services. Our team will develop a comprehensive plan to meet your dental needs and help you achieve your oral health goals.
Before we begin your treatment, we will even create a physical wax-up or digital mock-up using our Omnicam to give you a preview of your new smile. There will be no surprises!
Your treatment could be as simple as whitening your teeth, using either fast in-office treatment or convenient whitening trays you take home and use whenever you want. You'll have a brighter smile in no time.
If your teeth are suffering from cracks, chips, gaps, and other smile flaws, then dental bonding may do the trick. We'll sculpt composite resin into place to repair imperfect teeth. For more extensive damage, dental veneers may be needed. These thin shells bond to the front of imperfect teeth to create a beautiful and uniform new smile.
Rough and uneven tooth edges will soon be gone, thanks to teeth contouring. Our dentist will smooth away imperfections to give your teeth a more aesthetic appearance.
For misaligned teeth, we offer both Invisalign and Six Month Smiles orthodontic treatment. Invisalign can correct crooked smiles in as few as 12 months with clear teeth aligners. Six Month Smiles focuses only on the teeth that show when you smile, offering you an even shorter treatment time.
We can help with your gums as well. Gum reshaping treatment gently removes excess gum tissue, eliminating a "gummy smile," letting short teeth appear longer, and giving you a more even gumline. For receding gums, we work with a trusted local periodontist who can graft new gum tissue into place.
We're ready to help you achieve the new smile you've been waiting for. An Ozark smile makeover can change your life for the better! Call us today at (417) 581-3600 to schedule a consultation.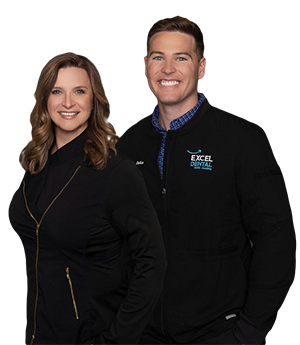 Excel Dental
Dr. Tracy Davis and Dr. Jim Oslica
The careers of Dr. Jim Oslica and Dr. Tracy Davis have followed similar paths, and they are excited to offer exceptional smile care to residents of southwest Missouri! Dr. Oslica originally hails from St. Louis but moved to Ozark at a young age and graduated from Ozark High School. Dr. Davis' hometown is Conway, though she moved to the Springfield area in 2004 to be closer to family. Graduates of the University of Missouri-Kansas City School of Dentistry, they both have earned many accolades and memberships in prestigious medical associations. For example, Dr. Davis has received national recognition as a dental researcher while Dr. Oslica is an active member of the American Dental Association. Drs. Davis and Oslica love to help our patients smile with more confidence and providing you top-notch, comprehensive dental care in a warm environment.