At Excel Dental, keeping each patient comfortable for every procedure is always top of mind. That's why we offer certain amenities to make you feel more at home. For anyone who needs a little extra help relaxing while they are here, we can point to our two great sedation dentistry options in Ozark, MO.
We'll administer your dental sedation carefully and monitor your relaxation levels.
We have sedation that suits your specific needs, regardless of age or fear.
With sedation, we can meet you where you're at and take you where you need to go.
No matter which type of sedation you choose, our compassionate team will monitor you throughout your procedure. For more information on your sedation options, call us at (417) 581-3600 right away!
Get Different Types of Sedation For Different Situations
From laughing gas, the mildest form of sedation dentistry, to oral sedation, we can provide sedation dentistry in Ozark, MO for any number of situations, depending on your needs. This is what each type involves:
Laughing gas, nitrous oxide, is administered through a small mask you wear over your nose and produces a mild euphoria. It takes effect quickly and wears off quickly at the end, so you can conceivably drive yourself home. The levels are adjustable, and it is safe for patients of any age.
Oral sedation comes to you as a prescribed medication. You simply take the pill before your appointment so you will be perfectly relaxed for the duration of your dental procedure. The effects last for a few hours, so it is always best to line up a ride for after your appointment.
Dental Sedation Helps With More Than Fear
Dental sedation options are great for folks experiencing dental anxiety or a flat-out fear of the dentist. Sedation is also helpful when you're planning to participate in a lengthy procedure or receive multiple treatments in one convenient visit. Other scenarios where sedation is handy include:
When you have an intense gag reflex
If you can't get sufficiently numb with local anesthesia
If your treatment involves oral surgery
Because of its many applications, sedation is a viable option for just about every dental patient, including individuals with special needs. Our goal is to make dental care as comfortable and accessible as possible for each individual who visits our friendly office.
Whether you're feeling anxious about your upcoming appointment or think you'll have trouble not fidgeting during a lengthy procedure, our sedation options in Ozark can help!
Call Excel Dental at 417-581-3600 to request laughing gas or oral sedation at your next visit. We're located at 1701 W James River Road, in Ozark, MO, just south of James River Church.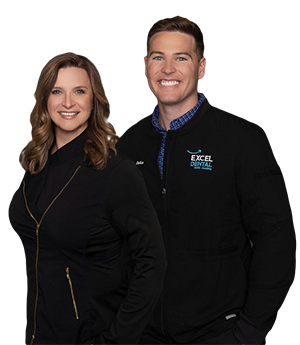 Excel Dental
Dr. Tracy Davis and Dr. Jim Oslica
The careers of Dr. Jim Oslica and Dr. Tracy Davis have followed similar paths, and they are excited to offer exceptional smile care to residents of southwest Missouri! Dr. Oslica originally hails from St. Louis but moved to Ozark at a young age and graduated from Ozark High School. Dr. Davis' hometown is Conway, though she moved to the Springfield area in 2004 to be closer to family. Graduates of the University of Missouri-Kansas City School of Dentistry, they both have earned many accolades and memberships in prestigious medical associations. For example, Dr. Davis has received national recognition as a dental researcher while Dr. Oslica is an active member of the American Dental Association. Drs. Davis and Oslica love to help our patients smile with more confidence and providing you top-notch, comprehensive dental care in a warm environment.