If your smile is damaged and in need of repair, you've come to the right place! Our dentist, Dr. Davis, loves to help our patients by rebuilding their smiles. They use Ozark restorative dentistry that will allow you to:
Smile with more confidence again
Eat and enjoy anything on the menu
Improve your overall oral health
Look younger, more attractive, and more vibrant
We also offer dental sedation if you're nervous about your visit! Call us today at (417) 581-3600 to schedule your appointment for restorative dental work. We're open early mornings as well as late afternoons. Our friendly office is located at 1427 W. State Hwy. J – just off US 65.
Enjoy a Stronger, More Beautiful Smile Again
No matter what shape your smile is in or how damaged it is, our talented dentists can make it whole again. We have a variety of dental restorations at our disposal, all designed to help you achieve a confident, complete smile again. Plus, we'll use digital impressions if needed, letting you avoid a goopy mess in your mouth. We'll discuss all your restorative options during your consultation, but here are a few services we may use to help you:
Tooth-Colored Fillings – Our metal-free fillings will blend in naturally with your other teeth without drawing attention.
Dental Crowns – We can repair or replace your teeth using beautiful e.max or zirconia crowns.
Inlays & Onlays – When a standard tooth filling isn't enough, these restorations offer tooth repair without the need for an entire crown.
Dental Bridges – Fill in gaps in your smile with a custom bridge that anchors either to your other teeth or to dental implants.
Dentures – We offer full, partial, and implant-secured dentures to give you lifelike and fully functional teeth.
Dental Implants – These replacement tooth roots will restore your smile and your biting and chewing capacity.
Full-Mouth Reconstruction – We'll use advanced tools like 3-D imaging and a computer-guided procedure to rebuild your smile from the ground up.
Root Canal Treatment – We'll stop your dental pain and, in most cases, save your diseased tooth with this comfortable treatment.
When your smile is suffering, you can count on the dental professionals at Excel Dental for Ozark restorative dentistry. Call our team today to schedule your consultation: (417) 581-3600. You can also schedule an appointment time using our online form.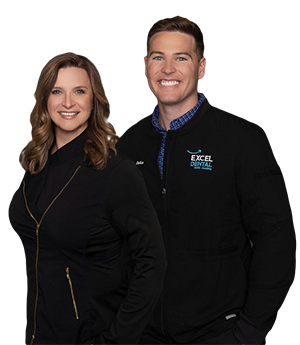 Excel Dental
Dr. Tracy Davis and Dr. Jim Oslica
The careers of Dr. Jim Oslica and Dr. Tracy Davis have followed similar paths, and they are excited to offer exceptional smile care to residents of southwest Missouri! Dr. Oslica originally hails from St. Louis but moved to Ozark at a young age and graduated from Ozark High School. Dr. Davis' hometown is Conway, though she moved to the Springfield area in 2004 to be closer to family. Graduates of the University of Missouri-Kansas City School of Dentistry, they both have earned many accolades and memberships in prestigious medical associations. For example, Dr. Davis has received national recognition as a dental researcher while Dr. Oslica is an active member of the American Dental Association. Drs. Davis and Oslica love to help our patients smile with more confidence and providing you top-notch, comprehensive dental care in a warm environment.