Did you know that athletes who don't wear mouth protection are 60 times more likely to experience dental damage? Or that you can grind your teeth while sleeping without being aware of it? Excel Dental offers you solutions for both situations using Ozark mouthguards. Our professionally made mouthguards will help you:
Prevent costly teeth damage while playing sports
Lessen the chances of experiencing a painful dental emergency
Eliminate harmful teeth grinding and tooth enamel damage
Avoid the need for restorative dental work or tooth replacement
Protect your smile! Call our team today at (417) 581-3600 to get a custom-fit mouthguard. Our address is 1701 James River Road, Ozark Missouri – not far from the Ozark West and Ozark North Elementary Schools.
Custom-Fit Mouthguards Protect Against Sports Mishaps
If you have a young athlete at home, you may already be aware of the need for a custom mouthguard. Football, hockey, and basketball are sports in which athletic mouthguards are usually worn. However, any sport or athletic activity involving a flying ball or object, or where players frequently come in contact with each other, can potentially cause teeth damage.
Our custom-made mouthguards will fit better, provide more protection, and last longer than store-bought options. So-called boil-and-bite mouthguards just don't offer the same protection or durability as our professionally made mouthguards will. When it's your child's teeth that are at risk, you want only the best. We can fit them with a new mouthguard that will protect them and give you peace of mind.
Avoid Dental Damage Caused by Teeth Grinding
Many of our patients grind their teeth while sleeping, and they're not even aware of it until we point it out. During routine checkups, we check for signs of abnormal tooth wear caused by grinding. Over time, teeth grinding (known as bruxism) can wear down your teeth, causing you pain and problems with your bite that could require restorative dentistry to correct.
We can fit you with a custom night guard that will rest comfortably in your mouth while you sleep. It will not only keep you from grinding your teeth, but it may help your jaw feel better as well, since teeth grinding can cause problems with your TMJ (jaw joint).
Ozark mouthguards can keep your smile looking its best. Call us today at (417) 581-3600 to get one for you or a family member!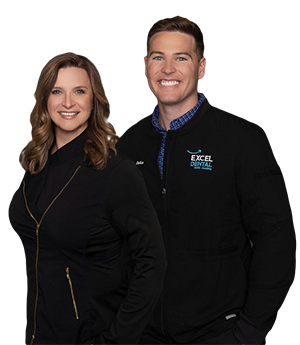 Excel Dental
Dr. Tracy Davis and Dr. Jim Oslica
The careers of Dr. Jim Oslica and Dr. Tracy Davis have followed similar paths, and they are excited to offer exceptional smile care to residents of southwest Missouri! Dr. Oslica originally hails from St. Louis but moved to Ozark at a young age and graduated from Ozark High School. Dr. Davis' hometown is Conway, though she moved to the Springfield area in 2004 to be closer to family. Graduates of the University of Missouri-Kansas City School of Dentistry, they both have earned many accolades and memberships in prestigious medical associations. For example, Dr. Davis has received national recognition as a dental researcher while Dr. Oslica is an active member of the American Dental Association. Drs. Davis and Oslica love to help our patients smile with more confidence and providing you top-notch, comprehensive dental care in a warm environment.