Rely on Our Ozark Emergency Dental Care to Help You Feel Better
Don't hurt! Instead, get the dental pain relief you need at Excel Dental. Dr. Davis provides same-day appointments to get your smile back on track fast. When you visit us for Ozark emergency dental care, you can count on:
Attentive treatment that focuses on helping you relax
Your choice of sedation to calm any anxious nerves
Answers to any questions you have about your treatment
Follow-up treatment as needed to ensure your smile stays healthy
Call us today at (417) 581-3600 to schedule your same-day emergency appointment! We're located at 1427 W. State Hwy. J in Ozark. Our practice also serves the communities of Nixa, Springfield, Sparta, and Highlandville.
Enjoy Comfortable Care in Our Hands
At Excel Dental, we have many tools available to help when you have a dental emergency. Not only will you be greeted warmly by our staff, but you can take advantage of cozy pillows and blankets and listen to your favorite music using headphones and satellite radio.
You'll also relax with your choice of sedation – either laughing gas or oral sedation in pill form. Our team will make sure you're fully relaxed before we do any work.
Our Treatment Will Relieve Your Discomfort
Below are several services that we might use to help get you out of pain:
Tooth Filling – We use natural-looking composite fillings that will repair tooth damage, stop your pain, and blend in beautifully with your other teeth.
Oral Surgery – If necessary, we can comfortably remove a damaged or diseased tooth or impacted wisdom teeth.
Root Canal Therapy – This misunderstood treatment will actually help you feel better. With it, we can stop the pain of an infected tooth and avoid having to extract it in most cases.
TMJ Treatment – We offer relief for your hurting jaw with a custom mouthguard, TMJ deprogrammer, or NTI-tss device.
Call us now at (417) 581-3600 for Ozark emergency dental care. We'll make sure you feel better soon!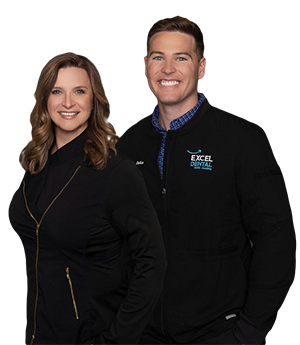 Excel Dental
Dr. Tracy Davis and Dr. Jim Oslica
The careers of Dr. Jim Oslica and Dr. Tracy Davis have followed similar paths, and they are excited to offer exceptional smile care to residents of southwest Missouri! Dr. Oslica originally hails from St. Louis but moved to Ozark at a young age and graduated from Ozark High School. Dr. Davis' hometown is Conway, though she moved to the Springfield area in 2004 to be closer to family. Graduates of the University of Missouri-Kansas City School of Dentistry, they both have earned many accolades and memberships in prestigious medical associations. For example, Dr. Davis has received national recognition as a dental researcher while Dr. Oslica is an active member of the American Dental Association. Drs. Davis and Oslica love to help our patients smile with more confidence and providing you top-notch, comprehensive dental care in a warm environment.