Let Your Smile Shine With Our Ozark Cosmetic Dental Solutions
Life is too short to go through it hiding your smile! Like we have for countless other patients, Excel Dental can create the glamorous smile you've been dreaming about. Our Ozark cosmetic dental solutions will help you:
Get a new smile you'll be confident showing off
Look younger, healthier, and more vibrant
Increase your overall self-esteem
Make social and professional interactions more comfortable
Don't hide your smile – take pride in it instead! Call Excel Dental today at (417) 581-3600 to schedule your consultation for cosmetic dentistry. Our office is located at 1427 W. State Hwy. J in Ozark.
Achieve a Beautiful Smile
Dr. Tracy Davis offers a variety of services to help you smile more boldly. We'll happily sit down with you to discuss all your options so you can decide the best way to improve your smile.
Whether you just want to brighten your smile with teeth whitening treatment or you need gum recession treatment, our team is here to help you achieve the results you want. Besides whitening, we offer other quick treatments like tooth bonding, which uses composite resin to repair small smile flaws like chips, stains, and cracks.
If your teeth are damaged more severely, you may want to repair them with dental veneers. These thin, tooth-shaped wafers will adhere to imperfect teeth and give you a completely new look.
For crooked teeth, we offer two great orthodontic options so you can attain a more beautiful smile. Invisalign uses clear plastic teeth aligners that will comfortably straighten your smile in as few as 12 months. Or, there's Six Month Smiles that offers you a straight smile in just months rather than years like traditional orthodontics can take.
We can gently sculpt your gums and your teeth using a tooth contouring or gum reshaping procedure. With tooth contouring, your teeth will look more even and have smoother edges, while gum reshaping will let more of the crown (white part) show rather than your gums.
If you like, we can combine any of our cosmetic dentistry services into a custom smile makeover. We'll help you design a treatment plan to give you a gorgeous grin that you'll love showing off everywhere!
Let your smile shine with our Ozark cosmetic dental solutions. Call us today at (417) 581-3600 to schedule your consultation.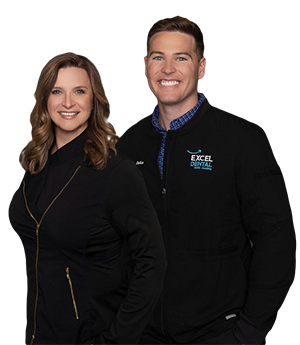 Excel Dental
Dr. Tracy Davis and Dr. Jim Oslica
The careers of Dr. Jim Oslica and Dr. Tracy Davis have followed similar paths, and they are excited to offer exceptional smile care to residents of southwest Missouri! Dr. Oslica originally hails from St. Louis but moved to Ozark at a young age and graduated from Ozark High School. Dr. Davis' hometown is Conway, though she moved to the Springfield area in 2004 to be closer to family. Graduates of the University of Missouri-Kansas City School of Dentistry, they both have earned many accolades and memberships in prestigious medical associations. For example, Dr. Davis has received national recognition as a dental researcher while Dr. Oslica is an active member of the American Dental Association. Drs. Davis and Oslica love to help our patients smile with more confidence and providing you top-notch, comprehensive dental care in a warm environment.