Trust Your Smile to an Experienced Ozark Dentist Office
Just like any other professional you need, it's important to find the right dentist to take care of your smile. You wouldn't want just anyone cutting your hair or tending to your medical needs, and dental care is no different. Excel Dental is an Ozark dentist office with two skilled dentists providing exceptional care to our area. Here are a few reasons our patients keep coming back to us: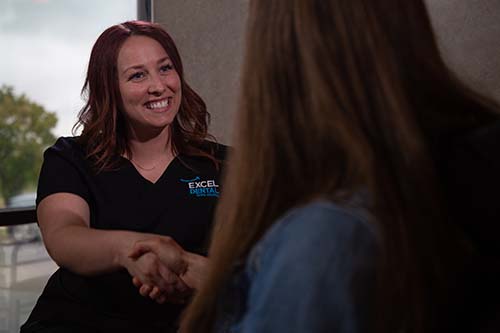 Convenient early morning and late afternoon appointments that fit your schedule
Advanced dental tools like 3-D imaging, lasers, and computer-guided procedures
Your choice of two sedation options to ensure relaxing dental care
Compassionate team members who work hard to deliver comfortable treatment to everyone
Call us today to make an appointment for yourself or a family member at 417-581-3600. We are located at 1701 West James River Road just south of Springfield in Ozark, MO Besides the city of Ozark, we also serve residents of Springfield, Nixa, Sparta, and Highlandville.
Save on Your Care With Our Dental Savings Plan
Our office wants to make sure high-quality dental care is available to everyone who wants it – whether or not they have dental insurance. That's why we developed the Excel Membership Plan. Your paid dental savings plan for your family gets you all these annual benefits:
Professional dental cleanings (two per year – routine or perio maintenance)
Doctor exams (two per year)
Any needed X-rays
One emergency exam per year (if needed)
Two fluoride treatments
Two oral cancer screenings
Two periodontal screenings
10 percent off our other treatments (some exclusions may apply)
Your Family Will Love Their Treatment Here
At Excel Dental, we offer a wide variety of dental services that will help keep your whole family smiling brightly:
General dentistry like dental exams, teeth cleanings, and gum disease treatment
Cosmetic dentistry, including veneers, teeth whitening, dental bonding, and more
Implant dentistry that will replace your missing teeth and give you back your confidence
Dentures available for full- and partial-arch replacements
Orthodontics, including Invisalign and Six Month Smiles
Oral surgery, including teeth extractions, bone grafts, and ridge augmentation
TMJ treatment to help your jaw feel normal and reduce harmful teeth grinding
Sleep apnea treatment to give you better rest and help you avoid serious health risks
For an appointment, call your new Ozark dentist office today at (417) 581-3600. We can't wait to meet you!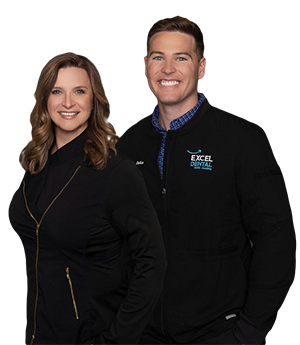 Excel Dental
Dr. Tracy Davis and Dr. Jim Oslica
The careers of Dr. Jim Oslica and Dr. Tracy Davis have followed similar paths, and they are excited to offer exceptional smile care to residents of southwest Missouri! Dr. Oslica originally hails from St. Louis but moved to Ozark at a young age and graduated from Ozark High School. Dr. Davis' hometown is Conway, though she moved to the Springfield area in 2004 to be closer to family. Graduates of the University of Missouri-Kansas City School of Dentistry, they both have earned many accolades and memberships in prestigious medical associations. For example, Dr. Davis has received national recognition as a dental researcher while Dr. Oslica is an active member of the American Dental Association. Drs. Davis and Oslica love to help our patients smile with more confidence and providing you top-notch, comprehensive dental care in a warm environment.
Success Stories
What Our Patients Are Saying