At Excel Dental, delivering gum recession treatment in Ozark is something we take seriously. If we determine that you do have receding gums during your visit, we will work closely with our periodontist partner to deliver a gum graft, the standard method for repairing problematic gums. This is a quick and minimally invasive process that we can go over in greater detail during your initial appointment. Just know that:
Your treatment happens fast. It takes only about an hour!
We can schedule a longer appointment for you if you're more comfortable taking the procedure at a slower pace.
We have sedation dentistry options to help you relax during treatment.
You will be able to smile with confidence again.
Any discomfort associated with gum recession will be alleviated.
As with most dental issues, you wouldn't want to postpone the recommended treatment for this affliction. If not addressed properly, this condition can eventually lead to decay and disease, and even tooth loss. Don't let it come to that! Call us today at (417) 581-3600 to schedule your appointment for gum recession treatment in Ozark. We're located on West State Highway J, just off Farmer Branch Road.
Choose the Right Ozark Gum Treatment For Your Unique Needs
The thing to remember is that with proper gum care and treatment, we can help save your smile. If your case of gum recession is mild enough, we might even be able to stop it with a deep cleaning, also known as scaling and root planing. Regardless, we will identify whichever measure will best suit your needs so that we can prevent:
Further gum recession
Loose or shifting teeth
Tooth loss
When you need to boost the health of your teeth and gums with gum recession treatment in Ozark, you can always count on our team. Call us today at (417) 581-3600 or schedule online to get started on your treatment so that we can get you smiling big again!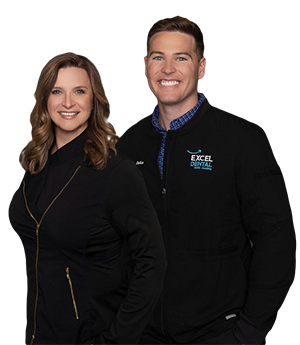 Excel Dental
Dr. Tracy Davis and Dr. Jim Oslica
The careers of Dr. Jim Oslica and Dr. Tracy Davis have followed similar paths, and they are excited to offer exceptional smile care to residents of southwest Missouri! Dr. Oslica originally hails from St. Louis but moved to Ozark at a young age and graduated from Ozark High School. Dr. Davis' hometown is Conway, though she moved to the Springfield area in 2004 to be closer to family. Graduates of the University of Missouri-Kansas City School of Dentistry, they both have earned many accolades and memberships in prestigious medical associations. For example, Dr. Davis has received national recognition as a dental researcher while Dr. Oslica is an active member of the American Dental Association. Drs. Davis and Oslica love to help our patients smile with more confidence and providing you top-notch, comprehensive dental care in a warm environment.