It's important to find the right dentist who can meet the needs of all your family members. At Excel Dental, we offer a high level of dental care that your whole family will benefit from. Our Ozark family dentistry will:
Find and catch oral problems early, before they can do significant smile damage
Keep your kids' smiles healthy and bright, helping them avoid social embarrassment
Give you peace of mind that you're being proactive about your loved ones' oral health
Help you avoid more invasive and costly dental repair down the road
Call us today to schedule appointments for everyone: (417) 581-3600. We're conveniently located at 1701 James River Road in Ozark, MO – just south of James River Church – not far from Ozark West and Ozark North Elementary Schools.
Start Your Child on the Road to a Healthy Smile
Your family will be in great hands with the trained dentists and staff at Excel Dental. We have families of our own, so we understand the importance of good dental care!
Dr. Davis recommends you bring your child to us beginning at age 1. By this time, their first tooth will most likely have come through. Their first visit (ages 1-3) will be what we call a "happy visit" and will be complimentary if they come along with you to your own appointment.
We'll introduce them to our team, and if they're old enough, we'll show them some of the tools we use around the office. We may even polish their teeth if they don't mind; however, some kids are more comfortable just playing in the dental chair with a toy. Our goal is to get them comfortable coming to the dentist, so we won't force anything on them.
Once your child is a little older, we'll do a full dental exam and teeth cleaning, taking X-rays and checking for any problems. If we see any areas that need attention, we may recommend tooth fillings, fluoride varnish, dental sealants, or other treatments.
We have even been known to accommodate entire families at the same time, saving you time and headache. Be sure to ask us about scheduling your crew this way.
We Offer Treatment For the Whole Family
No matter how old your family members are, we can help them maintain healthy, beautiful smiles and overall good health. Be sure to ask about our in-house dental savings plan, too! Below are a few of our treatments:
Emergency Dental Care
TMJ Treatment
Sleep Apnea Treatment
Call us today for great family dentistry in Ozark: (417) 581-3600. You can also use our online form to schedule appointments. Be sure to ask our staff about the Excel Membership Plan for big savings on our high-quality dental care.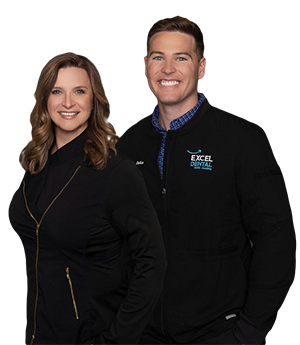 Excel Dental
Dr. Tracy Davis and Dr. Jim Oslica
The careers of Dr. Jim Oslica and Dr. Tracy Davis have followed similar paths, and they are excited to offer exceptional smile care to residents of southwest Missouri! Dr. Oslica originally hails from St. Louis but moved to Ozark at a young age and graduated from Ozark High School. Dr. Davis' hometown is Conway, though she moved to the Springfield area in 2004 to be closer to family. Graduates of the University of Missouri-Kansas City School of Dentistry, they both have earned many accolades and memberships in prestigious medical associations. For example, Dr. Davis has received national recognition as a dental researcher while Dr. Oslica is an active member of the American Dental Association. Drs. Davis and Oslica love to help our patients smile with more confidence and providing you top-notch, comprehensive dental care in a warm environment.