Your Dental Financing Options in Ozark
Anyone should be able to receive the dental care they need without finances holding them back. At Excel Dental, we don't want any of our patients to compromise their dental health due to dental payment concerns. After all, we understand the long-term and extensive impact of neglecting regular dental care. For that reason, to help our patients preserve excellent oral health and avoid costly dental problems such as periodontal disease and tooth loss, we offer a number of flexible dental payment options in Ozark, MO. With this in mind, many of our patients have found that our Membership Plan offers a lot of savings.
Care Credit
CareCredit is a unique credit card that is designed specifically to be used for healthcare needs. Further, CareCredit offers special benefits that can help you to pay for many other medical needs. Additionally, they offer reduced APR and no interest for many months under certain conditions. We accept CareCredit cards at Excel Dental. You can learn more about CareCredit here:
Payment Calculator
Calculate your monthly payment
Lending Club
Excel Dental also accepts payments through LendingClub. This option includes flexible plans that can even provide affordable financing for long-term and high-cost treatments at low or no interest depending on the plan you choose. Take a look at LendingClub options here:
Get the Care you Need with an Alphaeon Credit Card
Excel Dental is proud to accept the Alphaeon Credit card. Alpheon is a financing option available exclusively for the patients of dentists and medical doctors. In fact, Alphaeon offers credit lines up to $35,000, with unique financing options for purchases over $250.
Alphaeon Credit Card Accounts are managed by Comenity Capital Bank, which offers a range of monthly payment options determined by your financial needs. The Alphaeon Credit card offers patients several benefits, including:
High approval ratings – allowing patients to access treatments quickly.
Significant credit limits – easily covering the full cost of care in many cases.
Superior customer service – talk to a real person right away.
To learn more about how the Alphaeon Credit card can help you, talk to the Excel Dental team or determine if you pre-qualify now.
Flexible Payment Options
At Excel Dental, we also accept a variety of payment methods so that you can cover your dental care in the way that is most convenient for you. You can pay for all your dental treatments with:
Cash
Credit Card
Personal Check
Don't let financial concerns hold you back from enjoying a healthy, attractive smile. If financial concerns have been keeping you from receiving regular dental care, please call us now at 417-581-3600 or make your appointment online. Of course, we would love to discuss our dental payment options in Ozark, MO and help you find the right solution for your needs.  Most importantly, we want to provide you with the exceptional dental care you deserve to keep your smile healthy for life.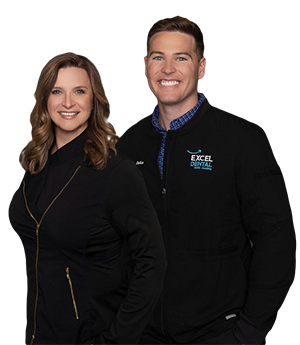 Excel Dental
Dr. Tracy Davis and Dr. Jim Oslica
The careers of Dr. Jim Oslica and Dr. Tracy Davis have followed similar paths, and they are excited to offer exceptional smile care to residents of southwest Missouri! Dr. Oslica originally hails from St. Louis but moved to Ozark at a young age and graduated from Ozark High School. Dr. Davis' hometown is Conway, though she moved to the Springfield area in 2004 to be closer to family. Graduates of the University of Missouri-Kansas City School of Dentistry, they both have earned many accolades and memberships in prestigious medical associations. For example, Dr. Davis has received national recognition as a dental researcher while Dr. Oslica is an active member of the American Dental Association. Drs. Davis and Oslica love to help our patients smile with more confidence and providing you top-notch, comprehensive dental care in a warm environment.