Dear Patients:
We are so very excited to announce that we have resumed regular hours are once again to provide dental services for you, our valuable patients. We have taken precautions to provide you with a clean, comfortable, and safe environment. Our dental Covid-19 protocols are well "above and beyond" what the American Dental Association and Centers for Disease Control recommend. We love what we do and the people we do it for.  We are always here for you.
Here are a few things we are doing to ensure safety for everyone who comes into our office:
We screen everyone before appointments to make sure that they are feeling well BEFORE coming into the office.
We check temperatures of each team member twice daily and before patients enter the clinic.
We offer payment by credit card from your car before the appointment.
We have enough hand sanitizer for all patients and team members.
Masks are given to every patient that walks into our office.
For procedures that cause saliva spray, we use high-speed vacuum suction.
We have always used masks, gloves, clean glasses, and have clean hands, but now you may see us wearing face shields as well.
We have added N95 masks as an added level of protection for us and for you.
The disinfectant cleaner we have used for years KILLS the COVID-19 virus as well other viruses, bacteria, tuberculosis and fungi.
We are constantly wiping down any high touch surface – including doorknobs, countertops, light switches, drawer pulls, etc.
Any time you use a pen in our office, it is yours to keep! You can be sure your pen is clean!
We run weekly spore tests on our sterilizers to make sure they are able to kill the toughest organisms known to medical science – every single week.
Every instrument goes through a detailed sterilization process of rinsing, ultrasonic rinsing, and heat sterilization in a bag.
Your instruments are not opened until you are present, reducing any risk of contamination.
Our water is distilled and we use Sterisil Straws to continuously disinfect dental unit water lines while providing safe and clean.
We use single use products whenever possible.
This high level of service is just one of the many ways that we are supporting our community, and it is included in the excellent work that we do…we go through comprehensive disinfection Covid-19 protocols after every patient is cared for.
Dr. Tracy Davis and Dr. Jim Oslica and all team members here at Excel Dental will continue to go above and beyond for our patients…it is second nature. For this and many other reasons, many of our patients have trusted their care with us for years.
We very much look forward to seeing you, your family, and your friends very soon.
Sincerely,
Dr. Tracy Davis and Dr. Jim Oslica
Excel Dental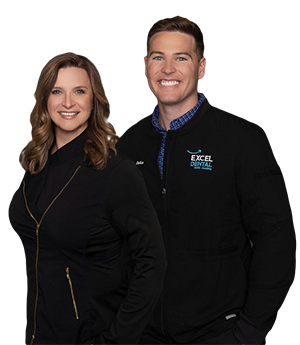 Excel Dental
Dr. Tracy Davis and Dr. Jim Oslica
The careers of Dr. Jim Oslica and Dr. Tracy Davis have followed similar paths, and they are excited to offer exceptional smile care to residents of southwest Missouri! Dr. Oslica originally hails from St. Louis but moved to Ozark at a young age and graduated from Ozark High School. Dr. Davis' hometown is Conway, though she moved to the Springfield area in 2004 to be closer to family. Graduates of the University of Missouri-Kansas City School of Dentistry, they both have earned many accolades and memberships in prestigious medical associations. For example, Dr. Davis has received national recognition as a dental researcher while Dr. Oslica is an active member of the American Dental Association. Drs. Davis and Oslica love to help our patients smile with more confidence and providing you top-notch, comprehensive dental care in a warm environment.