At Excel Dental in Ozark, MO in addition to calling us on the phone, you now have the option to request a dental appointment online in less than a minute. To get started, simply select if you are a new or returning patient. Interested in Invisalign or have a dental emergency? Choose the kind of dental appointment that's right for you.
Next, choose a time to make an appointment with one of our amazing staff. If you find that none of the appointment times work for you please call our office to see what other choices may be available. After you have completed and submitted it, a member from our business team will contact you to confirm your request. Once you have confirmed with us, you'll be all set for your appointment!
We know you are going to enjoy your dental appointment at our clinic in Ozark, MO. We look forward to meeting you or seeing you again!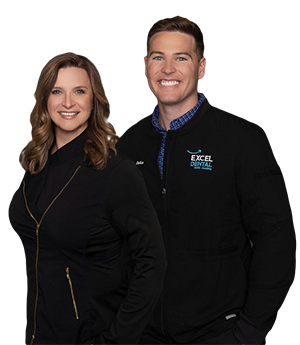 Excel Dental
Dr. Tracy Davis and Dr. Jim Oslica
The careers of Dr. Jim Oslica and Dr. Tracy Davis have followed similar paths, and they are excited to offer exceptional smile care to residents of southwest Missouri! Dr. Oslica originally hails from St. Louis but moved to Ozark at a young age and graduated from Ozark High School. Dr. Davis' hometown is Conway, though she moved to the Springfield area in 2004 to be closer to family. Graduates of the University of Missouri-Kansas City School of Dentistry, they both have earned many accolades and memberships in prestigious medical associations. For example, Dr. Davis has received national recognition as a dental researcher while Dr. Oslica is an active member of the American Dental Association. Drs. Davis and Oslica love to help our patients smile with more confidence and providing you top-notch, comprehensive dental care in a warm environment.